Three Cars and 20 Years Later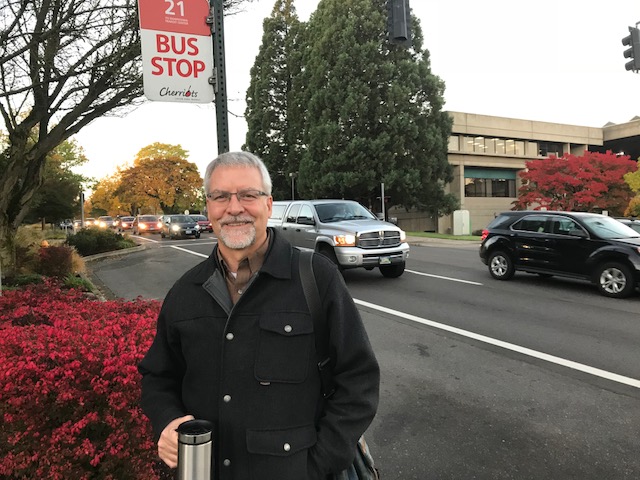 Don Whitehurst owns a Mazda pickup, a Chrysler Pacifica minivan, and a Subaru Forester SUV, but the vehicle he puts the most mileage on during weekdays belongs to Cherriots.
For more than two decades, Whitehurst has made his commute to work on a Cherriots bus. The Salem resident is a civil engineer, who works for the city and does plan reviews for subdivisions.
His preference for taking the bus confounds some people. Whitehurst, a silver-haired suburbanite who likes to barbecue and went to college on a soccer scholarship, remembers one exasperating conversation in particular.
"I told him I rode the bus but he said 'This is your truck!'" Whitehurst recalls. "It just didn't compute with him why you would ride the bus when you have a vehicle."
In 1995, Whitehurst arrived in Salem with his family and a Mazda pickup. His wife, Bonnie, who stayed at home to care for their young daughter, wanted access to the family's only vehicle.
Whitehurst started riding the bus to work and never stopped.
Why he rides
"It's keeping a car off the road, so I'm motivated by that," Whitehurst said. He also enjoys the exercise of walking to and from the bus stop.
At day's end, Whitehurst exits Cherriots at the bus stop on Commercial Street Southeast and Wiltsey Road Southeast. It's then an uphill walk to reach Whitehurst's home.
The engineer likes the savings from taking the bus.  An online calculator developed by the National Alliance of Public Transportation Advocates compares the cost of driving a personal vehicle with using public transit.
Cherriots entered the relevant numbers for Whitehurst's 12-mile round trip commute into the online calculator.
If Whitehurst drove his Mazda pickup to work, the annual cost, including fuel, monthly parking fees and maintenance would be about $770 per year. In comparison, Whitehurst is paying $540 a year for bus fare.
So at current gasoline prices, he is saving about $230 per year by taking Cherriots to work instead of driving himself.
Advice
When Whitehurst is riding a Cherriots bus, passengers don't stay strangers for long. He talks with his fellow riders, including people living without homes.
Instead of an isolated trip, cocooned in a car, the ride on Cherriots has deepened Whitehurst's connections with the community.
"You see a cross-section of society," he said. He has met people on the bus who have become longtime friends.
When Whitehurst was a newcomer in Salem, a conversation on the bus led to an invitation to attend Salem Heights Church. He's been a member of the church ever since, more than 20 years and counting.
--Michael Rose
Do you have a great story about riding Cherriots or have a suggestion for a rider profile? Contact us at info@cherriots.org.